FIinally in these days BNK48 began to get Japnaese fans, too.
Who is the most favorite member in BNK48? The simple question…
That is easy to answer. Ms. Cherprang is the one.
She got 39th rank at AKB48 General Election 2018.
She is in famous as a Cosplay girlas well.
Ms. Cherprang's tremendous speach in AKB48 General Election….
Has anybody missed it? So I would help those people who missed Ms. Cherprang's speach at Nagoya, Japan.
I made words just following what she said at that time.
Please take a read if you like.
But please make sure that this sentences are made by my hearing. So it wouldnt be perfect.
This is my personal content. Not official one.
But also it is not copied content. I, this site's master Mr. Cusco wrote it down by my hand over hearing what she says in Japnaese words and Thailand's words.
I would be happy if it entertains you well.
Lets start!!
A member of BNK48 Ms. Cherprang Apeekul is a Uni Student in Thailand(2018)
Ms. Cherprang who got 39th rank at AKB48 General election 2018.
Let me introduce you the easy profile of Ms. Cherprang.
Name:Cherprang Apeekul
Birthday:03/02/1996
Height:160cm
Blood type:B
Favorite foods:None
Hobbies:Eating, Sleeping, Playing games, Singing, Cosplay
I like her answer: No Favorite foods. Because Japanese Idol girls know what kinda answers make their fans happy, so always their answer is easy to guess.
Not interesting in other words.
Take a look at Hobbies, Eating, Sleeping…Yeah, she is in honest, I guess.
About Cosplay, this is not a fake answer.
She is a real Costume player.
Take a look photo below, is ti a Christ mas Costume? Uhh, maybe.
Ms. Cherprang is an University student currently 2018. She is a studen in Mahidol University.
According to people who know Thailand, the Mahidol University is one of the most famous and high level Universities in Thailand.
From this information, Ms. Cherprang has a smart brain and is cute looks as it looks, and also Costume Player…
What a thing it is!!!
She is a super  talented girl!!!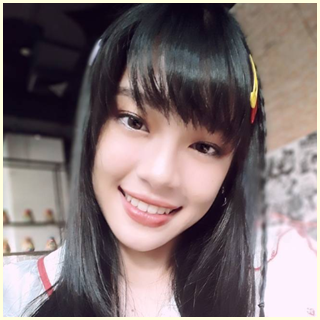 Ms. Cherprang say, All speachs in AKB48 world election 2018。
I, master Cusco made it words by my handwriting over listning to her speach.
About Ms. Cherprang's Thailand words, translated by an interpreter.
Here we go!!
Host woman:

Now, ok? Finally we got a moment to feel INTERNATIONAL. This is a General Election.

Congraturations! You are selected as 39th.

Ms. Cherprang:

Thank you~~

Speachs by Thailand words (translated later)

Team B……Im Cherprang.

Well…..ah….seriously…..Thank you very much everyone~~

Thank you so much for your supporting and giving me this … …Trophy? hahaha….(Smilled)

Ms. Cherprang speaks Thailand words……

Host woman:

Can we have your help?

Interpreter:

Sure….ah….I am Cherprang.

Well….I really appreciate all people who voted me and encouraged me.

Thanks to support by all people, ah….Cherprang …today…now…I am here, this stage…

Ah….AKB48 is a……I like them so much.

Well….now ….not only Japan but currently in Thailnad, BNK48 has launched. Then, from now on I guess everywhere on the world sister groups would be launched.

I wish I could keep myself grow up continuousely.

(By Thailand words, she looks very shy…say something…..slightly could hear she is saying ..ISHIDA RINA….it means BNK48 member Ms. Rina Ishida Fans cheers up roundly.)

Interpreter:Currently Ms. Rina Ishida has joined us BNK48. I appreciate in her support.

(Ms. Cherprang speaks in Thailand words….._)

Interpreter:

Thailand is …Movie, Foods….a lot of great things to do we have. So we would like you to know about Thailand…

I Cherprang and also a member of BNK48, everybody welcomes you to come Thailand. If you came to Thailnad, we would be so happy!!

Host woman:

Yeah!!!! we contraturate you!!!!Congraturation!!!!!!

Host man:

Ms…..Ms. Cherprang…..Ah..Everybody…Everybody says…XXXXXXXX(I didnt know what is means. He say something Thailand words)

Ms. Cherprang:

Ah—!! Yes!

Host man:

Please give us your answer.

Ms. Cherprang:

Me too. I love you so mush.

I love you so much all & Thank you and hope see in  Bangkok!!
A most favorite BNK48 member Ms. Cherprang takes a speach by Japanese(Movie)
The self promotion video for AKB48 General Election 2018, the movie from Ms. Cherprang got 36 million times play.
This movie is spoken by 3 langueges, Thailand, Japanese and English…..
This is absolutely No.1 playing times among in 339 candidates in this election. 
Firstly she was 101th on the ranking. It seems pretty hard to jump up but as a result Ms. Cherprang got 39th. This is so amazing!!
Ms. Music, who from BNK48 also got good result 72nd!!
This is absolutely great result for BNK48!!!
I could find Ms. Cherprang's amazing movie for this election.
This is an official You Tube movie, no worries.
What a beautiful Japanese She speaks, do you think so? (mayby nobody knows…But I am sure!!)
AKB48 Published 05/19/2018 
Ms. Cherprang is already so famous in Thailand.
For example, the photograph which she put her signature on it went to Auction, and it was 77000 Baht, it equals to 2700 US dollers.
By the way, Thailand's living cost is still cheper than USA, 2700 USD equals to fiscally about 8000 USD!!
OMG!!! This is  a bit crazy price!! 8000 USD for just a photo with Ms. Cherprans's signature?
Ms. Cherprang is a well talented woman.
She keeps BNK48 activities over studying in University.
And she enjoys Cosplay, as well.
Recommended article:BNK48のメイサ スキャンダル画像(彼氏と)の衝撃 動画もあり
I became a big fan of Ms. Cherprang through writing this article.
To be honest with you, I didnt know who is Ms. Cherprang before.
But one day when I was reading Yahoo! Japan's topics, BNK48 was focused on.
Then I started to investigate BNK48.
Today I like BNK48 and Ms. Cherprang so much!!
I really contraturate Ms. Cherprang got a good result in AKB48 General Election 2018.
Congrats Cherprang!!